Making Money on Fiverr: My Story
It's always interesting to see how people learn about me or discover MMMW. I'm keenly aware one of my claims to fame is being an OG Top Seller on Fiverr. We're talking straight up trailblazer here. Last year, I made the (very) difficult choice to deactivate my Fiverr account—which I will get into later in this post. My purpose today is to let you in on my personal experience with the platform in hopes that it can some way help your freelance career.
What is Fiverr?
Much like UpWork or Guru, Fiverr is a marketplace of creative freelancers offering services in their respective specialties. One element that makes Fiverr stand out from the rest early on was their $5 starting price point on all gigs. Nowadays, it's actually rare to find anything of value on there for five bucks—but the gimmick helped them quickly gain a massive following of loyal clients and creators.
People use Fiverr to take projects off their plate. The platform has everything from logo design to explainer video production to data analytics. It's not just for cash-strapped entrepreneurs either. Major brands like Netflix, PayPal, and Facebook trust Fiverr for ongoing creative support.
My Fiverr Experience
I joined Fiverr early on while living in New York City. At the time, I was working for a non-profit and desperately needed to supplement my income. I can't remember specifically how I stumbled upon the platform—but it's safe to say they didn't have Super Bowl commercials back then. It was like the wild west. There were maybe a few hundred sellers besides myself. Of course I'd love to assume people were crazy about my creative perspective but I owe a lot of my initial success to the lack of competition.
My first gig was selling ad space on one of my high-ranking websites. I set up a Sponsors page and allowed buyers to add their hyperlinked logo. This type of offering would never fly today as we now know a page with 300 outbound links is garbage in Google's eyes. It gave me my first taste of Fiverr riches, though, AND helped boost my seller reputation. When I graduated to more legitimate, service-based gigs, I had a solid rating to rest on.
I experimented with a handful of gigs with varying success. One of which, slogan writing, became my white whale. Did I mention I had never written a slogan in my life? Fast forward to completing over 17,000 orders; bringing in nearly $140,000. It would be impossible to count how many companies are out there using my taglines to this day!
Anyone reading this and thinking, "okay, I'll do THAT too" might wanna think again. I had a bunch of copycats pop up in the Business Writing category throughout my tenure on Fiverr. Most of them learned the hard way that the marketplace is unforgiving to unoriginal ripoffs. My customers were loyal and my feedback spoke for itself.
On a somewhat "results not typical" side note; I soon found myself in the Fiverr fold, so to speak. They invited me to their exclusive events in NYC, interviewed me for their blog, and hired me for various pilot programs with major corporate brands. I was even at their company holiday party! I'm not sure if they do that stuff anymore, but it really made me feel deeply connected with and invested in their mission.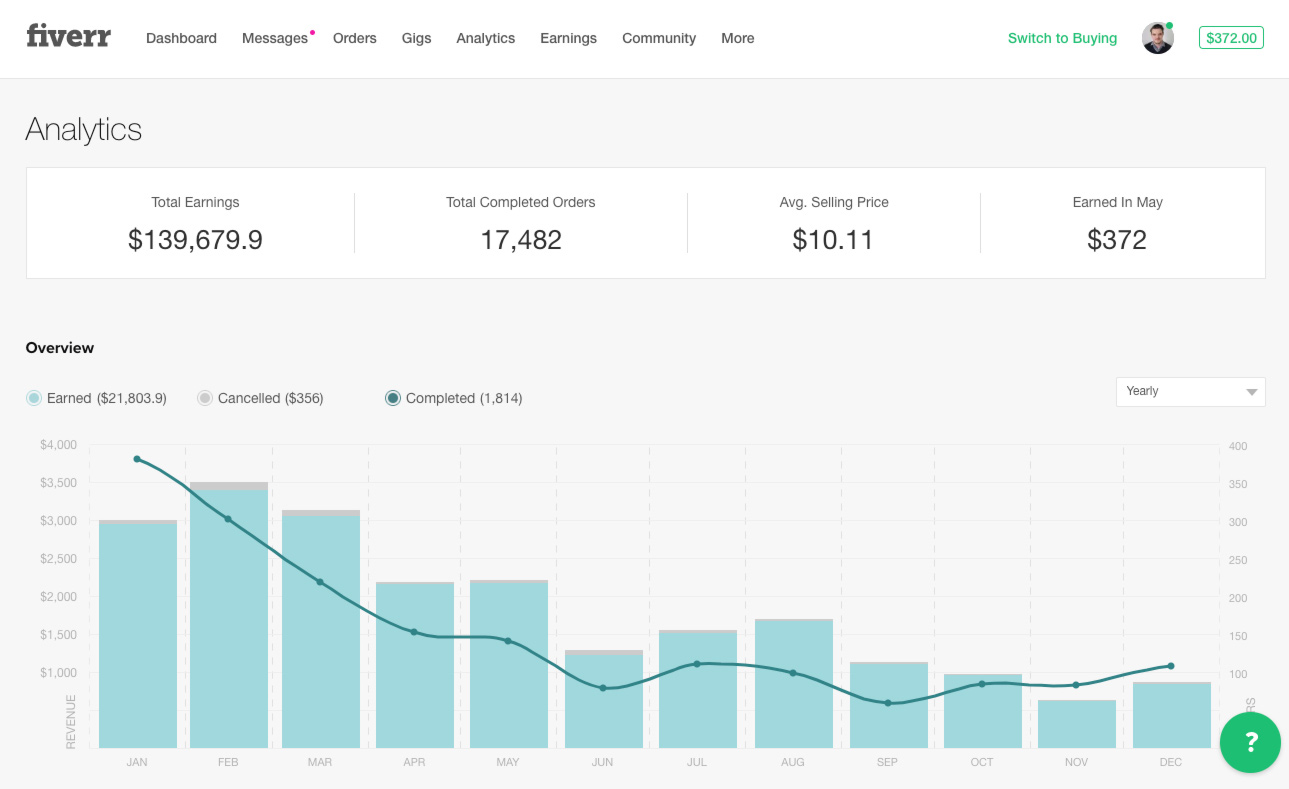 At the peak of my Fiverr career, I was earning over $3,000 each month—but at what cost? When I joined the platform at age 25, extra walkin' around money was my singular goal. Fast forward 6 years or so, I'm taking freelance web design WAY more seriously; trying to build a real business. Saying goodbye to that income was not a decision I took lightly. I toiled over it for months before pulling the plug. Fiverr was the ultimate security blanket, but spending hours each day earning $5 a pop was neither sustainable or scalable. Factor in the mental gymnastics of working with 20 different companies simultaneously and the anguish of coping with semi-frequent unpleasant personalities… it was time to move on.
Do I regret my years spent on Fiverr? Heck no! In what other realm is it even fathomable to gain professional experience doing work for 15,000+ clients across countless industries? Not to mention, it helped me pay for my wedding and buy my first AND second homes. Financial perks aside, it made me the ultimate freelancer! Look, my personal mission evolved but Fiverr might be the perfect fit for you right now. Don't discount what this platform can do for your supplemental income and short-term goals!
How to Succeed on Fiverr
Allow me to reiterate once again that joining ANY of the freelance marketplaces today will be an uphill battle for a new user. Is it impossible? Nope! It's just a challenge that requires patience, determination, and a little faith. The rewards of which can potentially change your life for the better. So, where to begin?
Set Your Expectations
I want you to make money on Fiverr but I don't want you to jump in with a sugar-coated notion that this is easy money. Unlike UpWork, buyers on Fiverr tend to have budgets on the lower end. As a seller, this is a volume play for you. Forget about the off chance you'll land a $1,500 landing page request. Focus on selling a lot of something much smaller. Remember, I crawled my way through the Fiverr algorithm just $5 at a time.
Find Your Sweet Spot
Spend some time browsing the various categories in Fiverr to see what services are succeeding currently. Now, duplicating those gigs will get you nowhere. You are brand new. You must find YOUR gig. With such a flooded marketplace, niching down and being super specific will help you stand out. Instead of "Logo Design" maybe consider "Vintage Style Logo Design". The more specific, the better—while not being SO fringe that nobody needs the service, of course.
Pump it Up
When you create your first gig on Fiverr, you will be virtually invisible in the search results. These are the hard facts. The algorithm is designed to serve buyers with their most likely shot at gig happiness. An unknown seller with an untested service is too much of a gamble.
To start gaining the trust and traction of the all-powerful Fiverr Gods, you need to prove yourself. The more positive ratings you get, while delivering on-time and being responsive to new inquiries, the more prominently you will appear in your category. Yes, it's the classic chicken and egg conundrum once again. How do you get a rating if you can't get an order? YOU must go out and get the first few yourself. Friends, family, employer, whatever—beg your circle to order your gig and leave feedback. The more they spend, the better. It's a bit of a fake it til you make it situation. Keep this up until the real, organic buyers start purchasing.
Alternatively, you could always create landing pages or mini-sites linking to each of your gigs and send paid traffic to them. It could get expensive but will probably become a worthy investment soon enough.
Service First
At the height of my Fiverr momentum, I was getting 30 new orders per DAY. It's not always easy to maintain stellar communication and brilliant quality standards at that volume. Take it from me… you MUST prioritize customer service and on-time delivery. On the few occasions I let these two critical factors lapse, my bottom line suffered greatly.
A handful of missteps eventually cost me my Top Seller status, demoted me to Level 1, and forced me to crawl my way back to the top. It was grueling. Honestly, my order flow never really recovered fully. Do not miss a beat! Stay on top of Fiverr; keep the browser tab open, download the app, constantly refresh the page. Your reputation and ranking on the site is not something easily rebuilt.
Here are a handful of guidelines to live by if you want to achieve lasting success on the platform:
Deliver on-time, every single time
Never (ever) pause your gigs
Write short, sweet, SEO-friendly gig titles
The first sentence in your gig description needs to be the best
Under-promise and over-deliver when possible
Maintain a document with frequently asked questions and perfect answers to save time fielding inquiries
Follow-up with unhappy buyers to see what it would take to get a better rating
Fiverr's search algorithm favors videos over static gig artwork
Never include "Message me before you order" in your gig description
Do not send mass messages or spam (ever)
Stay active on the Fiverr Forum and participate in their virtual events
Always Upselling
This is just one of the tenets of commerce in general—but applies especially to the Fiverr marketplace. When you create a gig, make your base price very reasonable with plenty of value to the buyer. You might even take a loss on that tier because this game is ALL about the upsell. Your higher tiers and Gig Extras should be so irresistible, buyers get major FOMO at the mere thought of not upgrading.
Fiverr does a great job of pushing buyers to spend more during the checkout process, but YOU have to bring some strategy to the table. Give it some real thought and plan out your offerings to encourage high-ticket sales.
https://mmmw.co/wp-content/uploads/money-pile.jpg
700
1200
Tom
https://mmmw.co/wp-content/uploads/logo_main-white-3.png
Tom
2022-06-20 08:25:21
2022-07-07 10:51:50
Making Money on Fiverr: My Story